Eltima Keylogger Software
Powered Keylogger 2.3
Records all keystrokes and invisibly monitors all users on your PC
records all keystrokes and passwords
monitors any activity on your PC
invisibly delivers logs to your mailbox
fully supports the Unicode in contrast to many other keyloggers
undetectable by a list of Firewalls, Anti-keyloggers and Antivirus software

new
Powered Keylogger is highly professional yet very easy-to-use security surveillance software for big and small companies, network administrators, concerned parents and PC owners. It is a great keylogger software that gives managers the ability to trace the employees' work and parents to check kids' computer exploitation as it monitors all computer activity, Internet usage, keystrokes, passwords (including Windows Logon Password and saved passwords which were never typed), files operations, usernames, online conversations (ICQ, MSN, AIM), and takes screenshots at set intervals just like a surveillance camera directly point at the computer monitor.
Download free trial
Purchase full version
The heart of Powered Keylogger is a high-performance Windows 2000/XP driver which runs silently and invisibly at the lowest level of Windows 2000/XP operating system. Nobody will be able to find out if keyboard logger is installed in your computer as its folders are hidden from all users in your system. Program modules of this keylogger are hidden, as well as the logs are unrevealed by anyone but Powered Keylogger itself. Sure thing, this keylogger software will not be visible in Tasks or Processes List, among installed programs, in Start menu (unless you prefer a visible installation), it will not show up in registry or Add/Remove Programs utility.
Powered Keylogger Screenshot
enlarge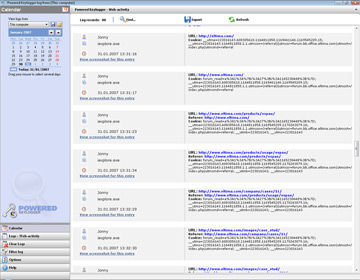 Monitors Internet activity, websites and web-pages visited
Unique user-friendly unhiding approach
Powered Keylogger features a unique method of hiding/unhiding the logs viewer, which is a configuration utility at the same time. The so-called "secret word" approach is unique Eltima's invention and offers a brand-new method to reveal and conceal the keylogger. During installation you choose a secret word which you will use to unhide Powered Keylogger. It can be any word or sentence, or any sequence of characters working as a password. To unhide the keystroke logger just type this secret word anywhere: in any application or even on your desktop! As secret sequence is unknown to anybody, you can be perfectly sure that nobody will type it by error, as you are the only one who decides what this secret word should be. Your password is unique, known only to you, so you can be absolutely positive that nobody will locate or unhide Powered Keylogger.
When keyboard logger is unhidden, you can view the logs in a flexible internal logs viewer. You can easily search through all the stored records and with built-in slide-show viewer go through recorded snapshots. Full-screen view will let you feel as if you were present in front of your PC all the time.
Convenient to use with any character set
Powered Keylogger is security keylogger software that fully supports the Unicode. Unlike many other keyloggers and spy utilities, Powered Keylogger easily recognizes non-standard or 2-byte encodings. Support of Unicode guarantees that absolutely all keystrokes will be visible no matter in what language they were typed. Keyboard logger will capture keys pressed and mouse buttons clicked in DOS boxes, Java applications and chat-rooms, PC emulators, instant messaging software, etc. Not a single letter can be omitted by Powered Keylogger, all system keys and combinations will be recorded including PrintScreen, Functional keys (F1 - F12), CTRL+C/CTRL+V, CTRL+ALT+DEL and other important combinations will appear in the log exactly when and where they were typed.
Expedient tool for remote management
You need to install Powered Keylogger only once. Leave all the default settings and forget about additional problems with tuning and adjusting the software. The Keylogger will record keyboard activity automatically and will be accessible via your secret word 24 hours a day or any time you need it. You can also specify an e-mail address to send the logs to, in this way you don't need to view the logs exactly on the PC being monitored; they will be deciphered and automatically delivered to your mailbox.
Employee/Corporate monitoring
Parental control
Full PC monitoring
Law enforcement organizations
Family and business
Home and office use
Security inspections
Lost data retrieval
Controlling interest
Incomparable Hot feature:
Powered Keylogger is undetectable by a list of Firewalls, Anti-spyware/Anti-keyloggers, Antivirus software!
Check User Manual (Help file) for details.
Superior solid and stealth performance that is unmatched by other software of this kind!
Hot New Features:
Fixed: bug with saving settings and uninstall when UAC is enabled on Windows Vista
Several other minor enhancements
Full Features List:
Records absolutely all keystrokes, including system keys and controls on multimedia keyboards

Captures all mouse clicks with detailed information (time, date, username, application, window and control on which the click was done)

Records all passwords, including Windows Logon Password, saved passwords, passwords to e-mails and websites, etc

Monitors Internet activity, websites and web-pages visited

Records applications activity showing you which programs were launched

Captures all e-mails sent or received on monitored PC, no matter if it is Outlook or any other e-mail client, or the mail is sent using web-interface

Records desktop activity (visual surveillance) making snapshots of your desktop at a customizable interval, with automatic disabling taking screenshots based on user inactivity

Unique screenshots playback as a slide show or manual advancement in full screen

Possibility to stop keylogger and enable it again in some period of time

Unique unhiding mechanism - you can choose any secret word to unhide the keylogger

Simple installation/uninstallation - suitable for all users

View logs for any dates or combine them with our convenient Calendar control

Easily view logs from other computers (requires logs viewer installed)

Enable/Disable every log individually (do not use those logs that are not necessary for you)

Advanced logs filtering system: filter by username, application or windows caption

Invisibly sends logs via e-mail

Automatically save the logs to prepared USB Flash Drive

Logs can be automatically cleared after being sent

Unique kernel-level driver functionality

Extremely low system requirements: any computer with Windows 2000/XP will be able to run Powered Keylogger

Absolutely invisible, even capable of hiding its own folder on hard drive

Each entry in the log is accompanied by detailed information (time, date, username, application, etc)

Monitors all users on your PC

Easily configurable

Automatic startup even before Logon screen
Powered Keylogger compatibility:
Windows 2000

Windows XP x32

Windows Vista x32
Demo version limitations:
14-day trial period
Passwords are masked in the logs in demo version
Download full-featured version of Powered Keylogger now and get the most trusted and reliable security surveillance software on the net!

Download free trial