Eltima Folder Security Software
Hide My Folders 2.1
Protects your files and folders from viewing, accessing and searching completely, so that only you know that those files or folders exist.
lock certain files from children's access
files security in shared folders
invisible hiding process for all users
password-protected program start
Hide My Folders is like an invisible shield that conceals all files and folders you want to hide. No matter how particular computer is accessed (over local network, from internet or directly), protected folders stay invisible and safe. Once you hide files/folders, this folder security software will not reveal its presence in your system, and the files will be hidden until you unhide them. No one can find out if any of the files or folders is hidden. Hide My Folders launch is password-protected and you will be the only person to see and access your private info.
As a security measure, Hide My Folders incorporates foolproof control which means that nobody will hide system critical files and folders (such as c:\windows etc.) and lock your system. We guarantee that you will never lose your hidden files or do any harm to your system!
Download FREE Hide My Folders demo
Order full version
Hide My Folders is meant for anyone who is concerned about confidential folder security.
Hide My Folders Screenshot
enlarge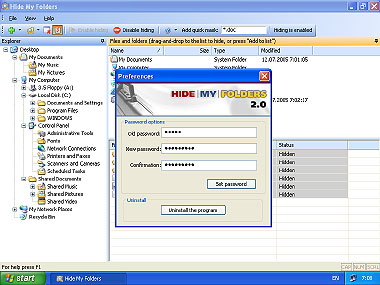 password-protected program start
What's new:
Installation/deinstallation processes are modified
Application's core engine is improved
Third-party application support is improved
Several bugs are fixed
Hide My Folders Features:
hide files and folders from viewing, accessing and searching

Hide My Folders process is invisible for all users

password-protected program start

hide as many files as you like

"wildcard" pattern-matching approach to specify multiple files to be hidden

predefined hiding templates for specific folders ("My Favorites", "Desktop", "Windows Favorites", "Cookies", "Start menu", etc)

user-level protection (hide files from system administrator as well)

lock certain files from children's access

hide files in shared folders

fail-safe protection (cannot hide system critical files/folders)

no reboot required after installation/deinstallation, enabling/disabling hiding or adding files to hiding list

open files for preview directly from built-in Explorer

fully compatible with Windows 2000, XP, 2003

full drag-and-drop support

floating, dockable, autohiding panels and fully-customizable interface

temporary start/stop hiding within a single click

"Quick mask" to easily add files and folders to hiding list

optionally you can disable/enable hiding individually for any file on the list
Hide My Folders compatibility:
Windows 2000

Windows 2003 x32

Windows XP x32
Download Free trial of Hide My Folders

Download FREE Hide My Folders demo
Purchase full version of Hide My Folders

Order full version